Missions Ministry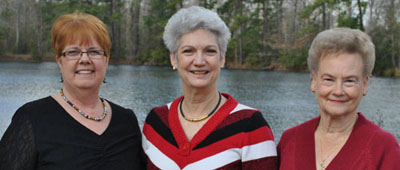 From Left:
Cherenne Kahler, Engaging Team Leader;
Lenora Krone, Empowering Team Leader;
Mary Findley, Enabling Team Leader
Engaging Team:
We are the missionaries that go to various places throughout our communities, within our nation, and throughout the rest of the world to reach people for Christ.
Empowering Team:
We are the prayer team for our church's mission endeavors. We build a prayer network for the people that we are reaching for Christ, develop prayer guides for teams that go on mission, keep those we reach for Christ as the focus of our daily prayers, host prayer events for those we reach for Christ, and recruit other churches to join us in praying.
Enabling Team:
We are the team that raises funds and supports the work of our church among those that have not yet been reached for Christ. We develop fund raising events and ideas to provide resources necessary to reach the community, nation, and world for Christ.

Cherenne Kahler, Lenora Krone, or Mary Findley

Phone:
281-689-6621